Red River 3.....June 7-13, 2015
Updated: 6/1/2015 (links in red)
This is the temporary page for the federal infantry battalion at Red River, to be commanded by
Dom Dal Bello. It is a consolidated battalion (not a pure "AoP" battalion).
Last Prep Letter [posted 6/1]
Battalion Info (mixed battalion of all infantry attending)
Guiding Impression: 77th O.V.V.I. History
Some history of the 77th.
Uniform Guidelines (key note: NO corps badges)
Keep all modern items hidden. Bring a good cup with a soldered-on bottom.
Packing List [posted 5/18]
TRAVEL LIGHT, but DRY ... I would typically carry two rubber blankets, a wool blanket & a shelter half.
Weather [as of 6/1] looks to highs of 89-91, lows 69-71, 1 days with t-storms, 3 days of possible t-storms.
Hints from the Ragged Old First
Some ideas on campaigning from the 1st Texas of Colorado, in prep for the 1999 Red River2.
NOTE: No need to bring a hatchet. the Battalion will have 4 hatchets, several axes and shovels, as well as some nesting kettles for large stews, coffee, etc.
Health and Safety
REVISED Emergency contact form for your cartridge box
NEW form [5/28]. Half-page form replaces 1/3 page form previously posted.
Ticks, Snakes and Feet
NEW info [5/28]. Basic safety information.
Military Affairs [Updated 6/1]
Ammuntion Procedure [6/1]
AoP Field Regulations * Bugle Calls * AoP Sword Manual <![if !vml]> * Inspection of Troops *
* Excerpts from Instructions for Guards and Pickets * Grand Guard * Parade *
Some sources to listen to Infantry bugle calls, collected by Todd Bemis are here:
http://civilwarbuglecalls.blogspot.com * https://soundcloud.com/2nd-california *
Some words to remember the songs by: http://2ndcalifornia.tumblr.com/
Instructions for Guards & Pickets - Special Offer
Rations and Mail [6/1]
Ration Info
Updated [5/28]. The event is issuing rations starting Monday afternoon, June 8. Bring your own rations to support you until then.
Mail: Incoming [5/18] (new deadline to postmark to Dom: 5/27)
If you want period cancellations, bring your mail to the event..
Mail: Outgoing [6/1] !!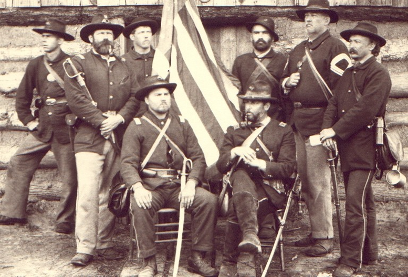 Battalion Staff, Company Officers and Color Guard, Red River I, 1994. Pleasant Hill, Louisiana.